Onyi A. Udoji also known as The Modern Montessorian, is an erudite Early years/Primary educator. She is deeply passionate about creating and maintaining a high quality of education in Nigeria and specialises in the ages 0-9. She is a holder of two international diplomas from MMI (London) and is the National Faculty Coordinator in Modern Montessori International (London) Nigeria.
Uche Emeasoba holds a first degree in Chemistry Education. She began her career as a classroom teacher where she spent more than ten years teaching at the nursery, primary and secondary levels. She obtained a Diploma in the Montessori Method of education from the Modern Montessori International (London), Lagos Centre where she currently serves as lecturer and Deputy National Head of Studies.
Lauretta Ejiogu is a seasoned Montessori directress driven by a passion for education. She holds Diploma and Advanced Diploma certificates in Montessori Education and a Postgraduate Diploma in Education from the University of Lagos. She is currently a full-time lecturer and manager at the MMI London, Lagos Centre
Oluwatosin Olafusi, an educationist had her first degree at Ekiti State University. After a decade of teaching in the early years, had a further studies at the MMI London where she had an intensive training on the peculiarities of early years. An outstanding student with desire for excellence, at the University of Lagos where she obtained an Advanced Diploma in Early Childhood Education and recently completed her Master's Degree. She is a Lecturer at MMI London (Lagos centre).
Kingsley Udoji is a seasoned educationist with a professional background in early childhood education. He holds a Diploma and Advanced Diploma in Montessori Method of education from the prestigious MMI (London) Lagos centre where he also serves as a full-time lecturer. He is an ardent believer of the Montessori principles and pedagogy. His favourite Montessori quote is "The greatest gifts we can give our children are the roots of responsibility and wings of independence."
Lynda Ukueku is a lecturer at the Modern Montessori International School(MMI) London (Nigeria). She has been in the education field since 2007. She obtained her diploma in Montessori Method of Education in 2010. She also earned her Master's degree in Multidisciplinary Studies in Education at the State University of New York. She currently resides in Abuja, Nigeria.
Owing to her passion for children, Omolara Talabi embarked on a career change from Business Administration to Early Childhood Education 15 years ago and obtained a certification in child growth and development with curriculum and activities from Prince George's Community College in Maryland, USA. She also bagged a Diploma and Advanced Diploma in the Montessori Method of Education from MMI (London). She has worked with children in various capacities and is presently the National Head of Studies in MMI (London) Nigeria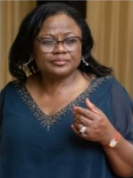 Dr Thompson is a practising Physician who specialises in Psychiatry. She consults for hospitals in Maryland, USA where she has lived for the past fifteen years. Dr Thompson has special interest in Neurodevelopmental disorders and forensic psychiatry. She graduated from the University of Nigeria College of Medicine, Enugu in 1985; the University of London School of Hygiene and Tropical  Medicine obtaining Diploma in Tropical Medicine and Hygiene (DTM&H) in 1992 and completed her residency training at the Howard University Hospital in Washington DC in 2002. She is a member of the American Psychiatric Association (APA) and the Association of Nigerian Physicians in the Americas (ANPA).
Markëta Howard enjoys exploring the world with my husband of 14 years and our two little children. Our life is one giant, purposeful adventure and I wouldn't have it any other way! I'm an eternal optimist and passionate about fashion, travel, delicious food, a good read, planet Earth, all things Montessori, and my Lord and Saviour Jesus Christ. I believe that true school has no walls and that, as Vince Gowman writes, "The best education does not happen at a desk, but rather engaged in everyday living – hands on, exploring, in active relationship with life." You can find me on Instagram @schoolathomeandbeyond and at www.schoolathomeandbeyond.com.